Dear Legacy Families,
We are just days away from our first day of in-person learning for many of you, and we couldn't be more excited!
As many of you prepare to return, we want to provide clarity on a few matters, and share with you some additional live teaching and tutoring opportunities for online students.
There have been some recent posts on social media and messages circulated suggesting falsehoods about Legacy's lack of preparedness for school. It's unfortunate that some feel the desire to spread this misinformation. To be clear:
Legacy campuses have no plans to close on Monday, Aug. 24.
Every campus has the necessary supplies to comply with CDC guidelines and to carry out our Mitigation Plan, including cleaning and disinfecting supplies, hand sanitizer and soap. We also have a supply of disposable face coverings and gloves for teachers and students to use if in need during the school day. You can read our cleaning and sanitizing procedures here.
We request that families please be patient with and supportive of our teachers and staff. They are doing an amazing job adapting to changes in our school year. We have the best teachers in the state, and we commend them for returning to the classrooms and supporting students online.
Also, just like we all come to expect a little more car traffic the first few days of every school year, we can expect that there will be other learning curves next week. Children haven't been to school in five months and it will likely take a day or two for them to adjust. Wearing a face covering at school is new, and that may also take some time to get used to. In short, there will be an adjustment period. But every student is going through adjustment, regardless of the school. We're all in this together, we're doing our best, and we will get there!
Finally, and most importantly, those of you who have been with Legacy before know that we are prepared. Legacy's 13 years of delivering exceptional education demonstrate this, and we are ready to provide this same level of learning for our in-person and online students for the 2020-21 school year.
Live Teaching and Tutoring Sessions
In recent weeks, we have heard from parents of online students who are requesting additional live teaching sessions for their children. To best meet the needs of our online learners, we will be piloting live teaching sessions for ELA and math during the week of Aug. 24 to 28. We will also be providing additional live tutoring sessions for students starting next week to continue through at least the first quarter.
For the week of Aug. 24 to 28, we will be providing live teaching sessions for online students. During this pilot period, students will have the opportunity to attend two live instruction sessions per day – one for ELA and one for math. These sessions will not be taught by their assigned teachers. All students in a grade level across the Legacy network will be invited to attend the sessions.
Live teaching sessions are optional for students, and they may pick the days and times that work best for them, or attend them all for even more support.
Students will be able to access the live teaching sessions through their Schoology account. To view the schedule and locate the Google Meet links, click Courses at the top of the page, then select Homeroom. The sessions will appear in the Homeroom section.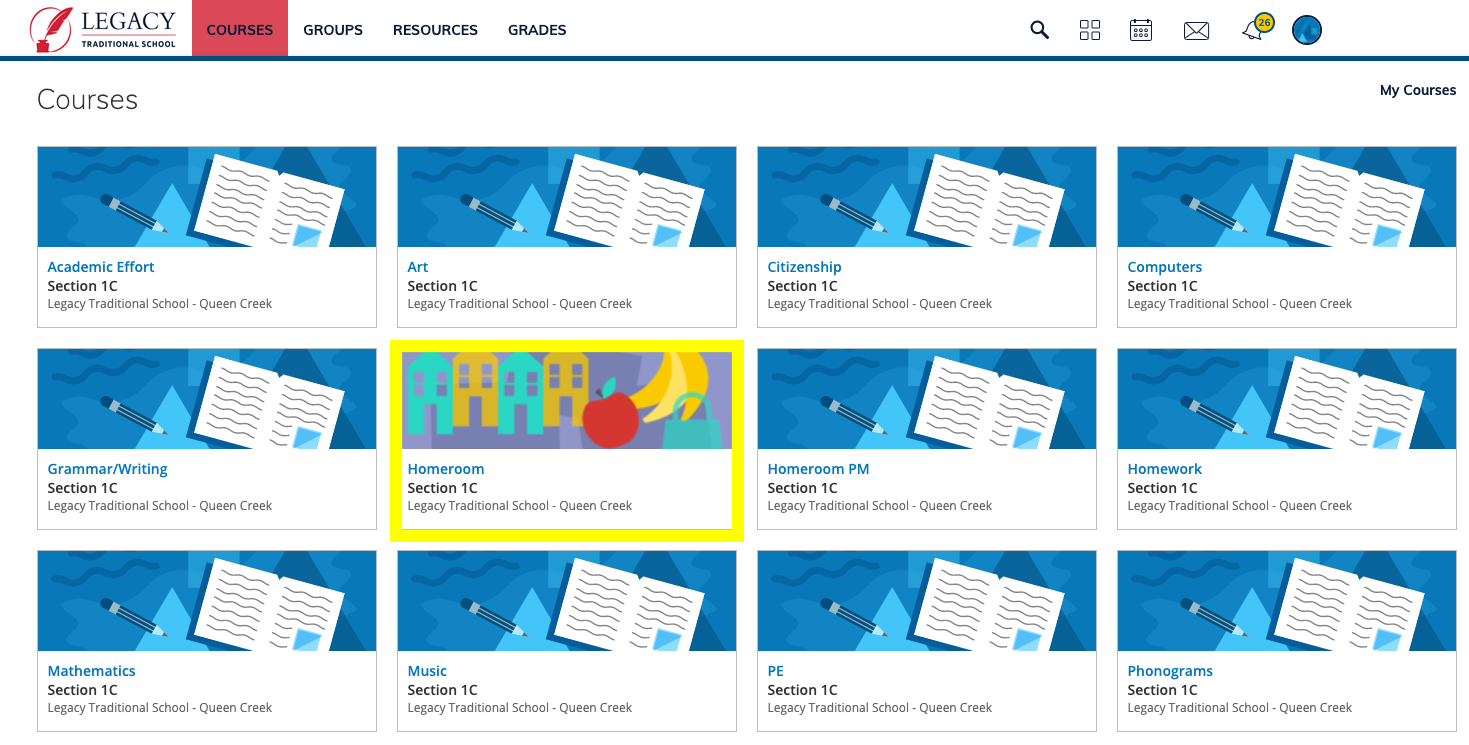 Additional Live Tutoring Sessions
Starting Monday, Aug. 24, online students will also have the opportunity to attend additional live tutoring sessions each week. These sessions are optional and may not always be led by your child's teacher; however, another teacher in your child's grade level will be providing this extra support for students.
Students can find a link to these additional live tutoring sessions in Schoology. If they have questions, they may reach out to their teacher.
Thank you for your support as we seek new ways to enhance the learning experience of all our students. It's going to be an amazing year!
Sincerely,

Nicole Kirkley
Superintendent