Dear Legacy Families,
We are excited to continue our Live Teaching Pilot next week, Aug. 31 to Sept. 3, for online students. Reminder, there is no school on Friday September 4.
Next week students may attend one live instructional session per day, which will focus on English Language Arts (ELA) and Math support. Live sessions will be taught by Legacy administrators from across the district. All students in a grade level across the Legacy network will be invited to attend the sessions. These sessions have been scheduled between 9 a.m.-12 p.m. to avoid interfering with tutoring sessions offered by their classroom or campus grade-level teachers.
Please remind your students of appropriate behavior expectations when attending the live sessions. Students should always remain muted unless called on, and should only type academic questions in the chat.
We are working on a long-term plan to provide smaller group, campus specific live sessions beginning the Tuesday after Labor Day. While we know the sessions are large right now, we are offering these as a good faith effort to provide our students with live interactions while we prepare the more extensive personalized plan which will roll out on Tuesday, September 8th. We have heard your concerns and appreciate your patience for one more week.
Live teaching sessions are optional for students, and they may pick the days and times that work best for them, or attend them all for even more support. The live sessions are in addition to the tutoring sessions provided at their campus level.
To access the live teaching sessions, students will need to:
Log into their Schoology account
Click "Courses" at the top of the page
Select "Homeroom" to view the schedule and locate the Google Meet links
When the session is about to start, simply click on the Google Meet link and enter the Google Meet code listed below
Please note the first letter in the google code is a lower case "l" for Legacy, it is not an "i"
Live teaching sessions schedule and Google Meet links: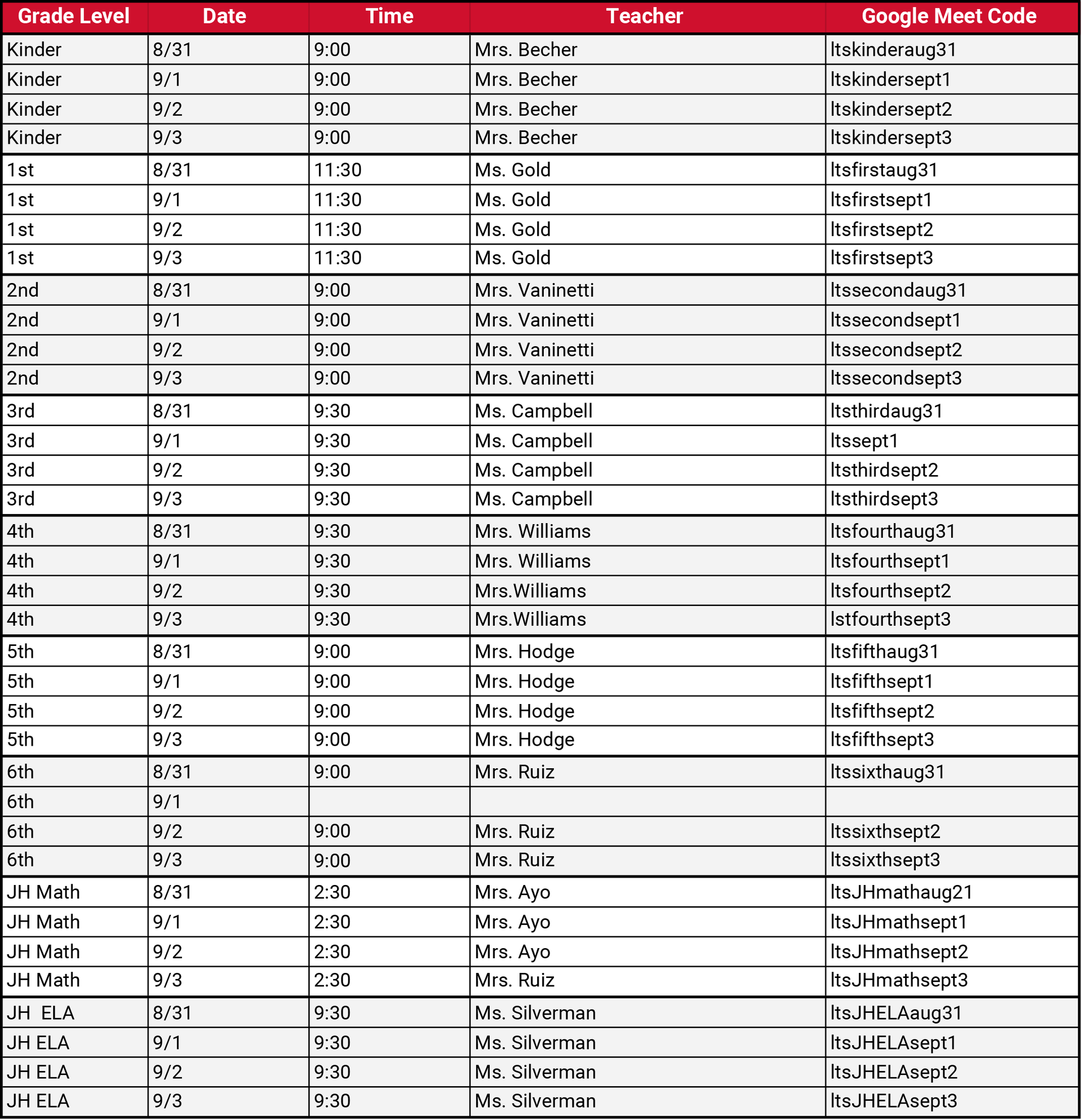 Thank you for your support as we seek new ways to enhance the learning experience of our online students.
Sincerely,

Nicole Kirkley
Superintendent
Legacy Traditional Schools